According to a new market research report published by Credence Research "Global Folding Bicycles Market (By Folding Mechanism: Split Fold Mechanism, Triangular Hinge Mechanism and Break-away Mechanism; By Frame Material: Aluminum, Steel, Carbon Fiber and Titanium; By Wheel Size: 16'' to 19'', 20'' to 24'' and 25'' and Above; By Number of Gears: Single Speed and Multi-speed) – Growth, Future Prospects, and Competitive Landscape, 2018-2026", the folding bicycles market is expected to grow with a CAGR of 6.2% during the forecast period from 2018 to 2026.
Browse here for full report: https://www.credenceresearch.com/report/folding-bicycles-market
Bicycles with an additional feature of folding have been witnessing an upsurge in demand from past few years. Folding bicycles provide better mobility and comfort of traveling during daily commute when compared to conventional bicycles. Along with functionality, folding bicycles are also packed with multiple features such as flexibility for mixed commute, less possibility of bicycle theft, carrying them up a flight of stairs and easy storage. Several bicycle manufacturers have been offering a variety of folding bicycles with different frame materials, wheel sizes and gear variants for activities such as touring and adventure biking. Riding folding bicycles can play a vital role in reducing commute time and cost resulting in enhanced traveling efficiency for individuals in the following years.
Request for Customization: https://www.credenceresearch.com/request-for-customization/58961
Multiple factors have provoked urban commuters to opt for bicycling as a mode of transportation in nearby vicinity. Endless stream of traffic and long walking distance between home, subway stations and workplaces have encouraged people to adopt bicycle as their daily mode of commutation. Furthermore, growing awareness towards environment coupled with health and fitness benefits have motivated people to prefer cycling. However, use of conventional cycle offers numerous challenges for mixed modes of transportation including metros and subways. In order to counter the aforementioned issue, consumers have started preferring folding bicycles which has boosted the overall folding bicycles market. Additionally, folding bicycles are lightweight, durable and require minimum storage space to compensate for limited residential spaces in modern urban homes. Nevertheless, folding bicycles still have to face stringent competition from conventional bicycles in terms of speed and performance thus affecting the growth of folding bicycles.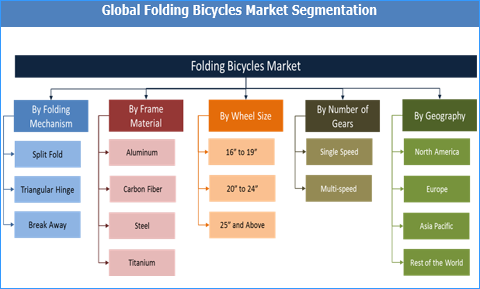 Several bicycle manufacturers are introducing a variety of folding bicycles in order to cater different consumer needs. These companies have been trying to develop lighter and more compact folding bicycles without compromising on the stability and functionality of the bikes. The overall folding bicycle market is expected to become fragmented in the following years with new companies entering the market. Manufacturers have been trying to attract customers from price-sensitive countries such as China, India and Brazil among others by introducing low price alternatives. Furthermore, manufacturers are paying keen attention towards the expansion of their sales and distribution network in developing countries. Some of the leading bicycle manufacturers profiled in this research study are Brompton Bicycle Ltd., Bobbin Bicycles Ltd., Cyclecentric Ltd., Citizen Bike Inc., DAHON North America, Inc., Decathlon S.A., Dawes Cycles Limited, Hummingbird Bike Company, Ltd., Montague Corporation, Mobility Holdings, Ltd., Ming Cycle Industrial Co., Ltd. and Raleigh America.
Additional in-depth analysis comprises in the report:
Present and forthcoming business trends to advocate the anticipated lucrative markets within the folding bicycles industry
Market drivers, market restraints, and their effect on the market progression
Key trend analysis and market predisposition for folding bicycles market
Comprehensive competitive landscape of leading folding bicycles manufacturers
2-years of historical data (2016 – 2017)
Company Profiles
12.1. Brompton Bicycle Ltd.
12.2. Bobbin Bicycles Ltd.
12.3. Citizen Bike Inc.
12.4. Cyclecentric Ltd.
12.5. DAHON North America, Inc.
12.6. Decathlon S.A.
12.7. Dawes Cycles Limited
12.8. Hummingbird Bike Company, Ltd.
12.9. Montague Corporation
12.10. Mobility Holdings, Ltd.
12.11. Ming Cycle Industrial Co., Ltd.
12.12. Raleigh America.
Overall, the research study provides a complete assessment of the global folding bicycles market, offering magnitude and detail evaluation of the market for the period from 2018 to 2026, considering the aforementioned aspects.
Also you can request us for sample in pdf with more details and graph:https://www.credenceresearch.com/sample-request/58961
About Us
Credence Research is a worldwide market research and counseling firm that serves driving organizations, governments, non-legislative associations, and not-for-benefits. We offer our customers some assistance with making enduring enhancements to their execution and understand their most imperative objectives. Over almost a century, we've manufactured a firm extraordinarily prepared to this task.
Contact Us:
Credence Research Inc.
105 N 1st ST #429
SAN JOSE
CA 95103
United States
Toll Free (US/CANADA): +1-800-361-8290